'Sex Education' Star Asa Butterfield, 'Stranger Things' Natalia Dyer Join Horror Feature 'All Fun and Games'
Sex Education star Asa Butterfield and Stranger Things' Natalia Dyer have signed on to co-star in All Fun and Games, a horror-thriller about a group of siblings who are pulled into a kids' game with a demonic twist.
Anthony and Joe Russo's production group AGBO will produce All Fun and Games together with producer/financier Anton (Greenland, The Night House), who will fully finance the project. Ari Costa and Eren Celeboglu will co-direct in their feature debut. The duo co-wrote the script based on an original spec from JJ Braider that AGBO acquired. Principal photography is set to begin in late March.
Anton is handling international sales and will introduce the project to buyers at next month's European Film Market in Berlin. Anton and CAA Media Finance are co-representing domestic rights.
Anton's Sebastien Raybaud and John Zois will produce All Fun and Games together with AGBO's Kassee Whiting. Anthony and Joe Russo will executive producer together with AGBO's Mike Larocca, Angela Russo-Otstot and Anton's Holly Hubsher.
Dyer, who will reprise her star-making role as Nancy Wheeler in the fourth season of Netflix series Stranger Things this summer, recently appeared alongside Amanda Seyfried and James Norton in the Netflix feature Things Heard & Seen and played the lead in Karen Maine's indie film, Yes, God, Yes, which premiered at South By Southwest in 2019.
Butterfield transitioned from childhood roles in indie features Son of Rambow (2007) and The Boy in the Striped Pajamas (2008) to playing the lead in Martin Scorsese's Hugo (2015) and Morgan Matthews's A Brilliant Young Mind (2015). But the British actor is perhaps best-known to a global audience as Otis Milburn in the Netflix series Sex Education, which is currently in its third season.
All Fun and Games will be produced through AGBO's indie-flavored "Gozie Agbo" banner, which focuses on up-and-coming filmmakers. AGBO has a growing slate of genre and horror titles, from Natalie Erika James' debut Relic, which IFC Films released last year, and two upcoming A24 releases: Isaiah Saxon's fantasy feature The Legend of Ochi and sci-adventure tale Everything, Everywhere, All at Once, from directing pair The Daniels (Swiss Army Man).
Ari Costa worked as the Russos' assistant on Captain America: The Winter Soldier and was part of the 2nd unit crew on Avengers: Endgame and AGBO's Netflix actioner Extraction.
"We are thrilled to be collaborating with Sebastian, John, and the entire Anton team on this visionary horror-thriller," Anthony and Joe Russo said in a statement. "Through Gozie Agbo, we strive to mentor and cultivate daring new voices; Ari and Eren are the epitome of next-generation filmmakers. We've had the privilege of watching Ari grow in all facets of filmmaking through our work together over the years and, most recently, at AGBO. We are so proud to support him and Eren in their feature directorial debuts."
Natalia Dyer is represented by WME, One Entertainment & Jackoway Austen Tyerman Wertheimer Mandelbaum Morris Bernstein Trattner & Klein. Asa Butterfield is represented by Independent Talent Group, CAA & Felker Toczek Suddleson Abramson.
A dizzyingly drab thriller holds onto the streaming charts for dear life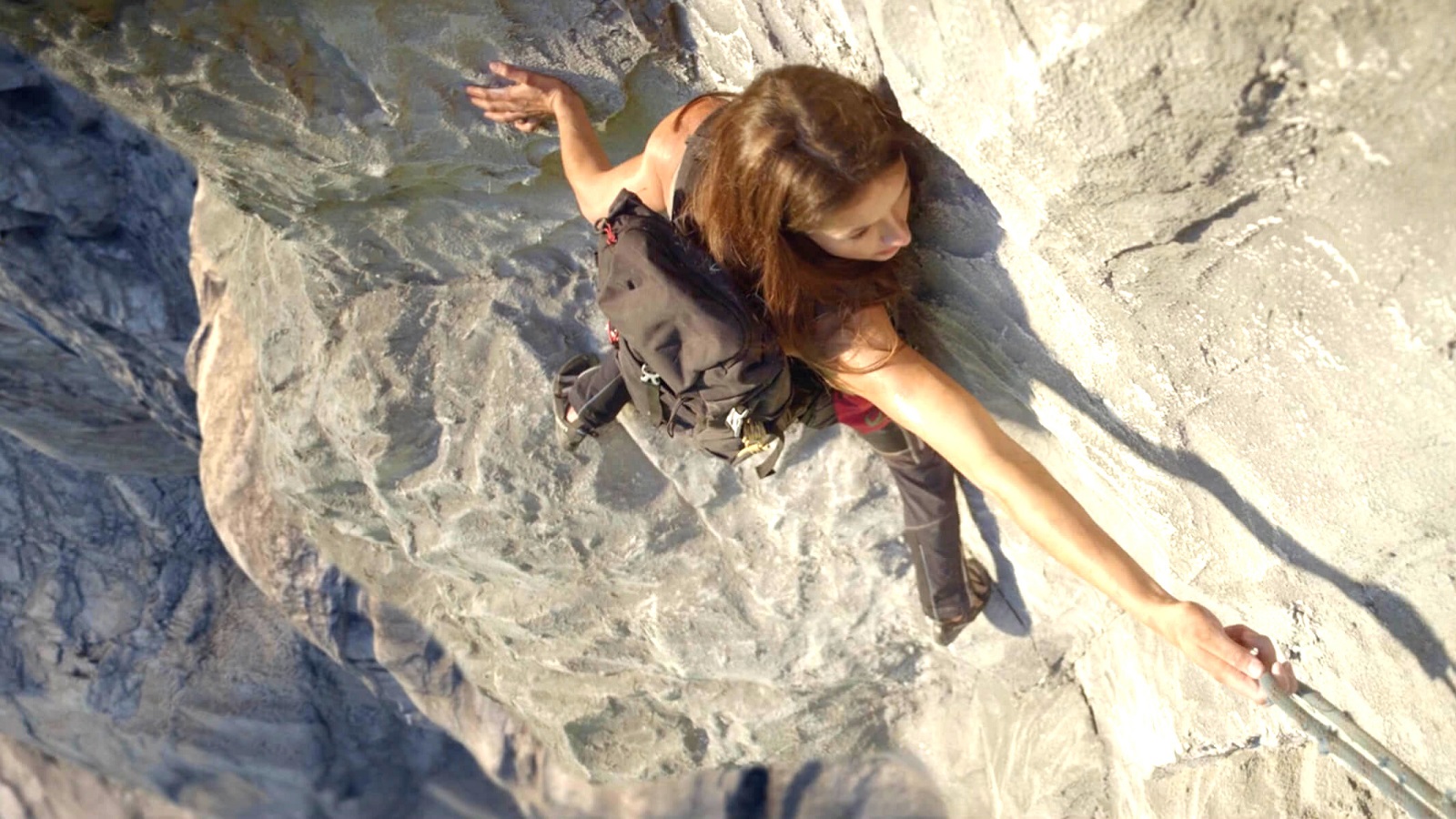 An unassuming low budget thriller with an eye-catching premise isn't the easiest thing in the world to stumble upon from the perspective of the filmmakers tasked to develop the project, so praise should be aimed towards The Ledge for its intriguing central conceit.
However, the concept isn't particularly well-suited for a feature film, which leaves the end product padding out its runtime to unnecessary proportions, yielding increasingly disappointing returns as the minutes tick by. Then again, it hasn't exactly harmed the prospects of director Howard J. Ford's would-be nail-biter on streaming, with FlixPatrol outing The Ledge as one of the 10 most-watched titles on Hulu.
That's a fantastic return for a British genre film, although the hook does admittedly make for an excellent selling point. Two friends set off on a rock-climbing trip, but one of them ends up as the victim of a murder. For better or worse, Brittany Ashworth's Kelly has caught the whole thing on video, with the quartet of killers hot on her tail.
Forced upwards out of necessity, she ends up within mere feet of her pursuers, forcing both parties into a drastic race against time to defeat each other, and the elements, in order to ensure survival.
As mentioned previously, the broad strokes of The Ledge had the potential to deliver an absolute doozy, but a 38 percent Rotten Tomatoes score and 21 percent user rating hints that it missed the mark by quite a distance. Fortunately, streaming crowds across the pond don't appear to have been deterred at all.
'Obi-Wan Kenobi' Video Shows Moses Ingram Training With Darth Vader
A new video from behind the scenes of the Disney Plus Star Wars series Obi-Wan Kenobi shows Reva actress Moses Ingram in lightsaber training with a fully-suited Darth Vader.
Obi-Wan Kenobi introduced Moses Ingram as Reva, the Third Sister of the Empire's Jedi-hunting Inquisitorius. While Darth Vader loomed constantly over Ewan McGregor's Obi-Wan and the events of the series, Reva was his most ardent agent in the hunt for Kenobi. In a shocking twist, however, it was revealed that Reva was not serving Vader at all, but plotting to turn against him, using Obi-Wan as bait. When the moment of confrontation came, Vader easily overpowered her in a dazzling duel, which saw Vader dodging Reva's blows without even raising a weapon against her at first.
In a behind-the-scenes video that has been shared online, Moses Ingram can be seen in her full Inquisitor gear taking on Hayden Christensen's unarmed Darth Vader, who dodges her blows and rehearses his Force-powered deflections. The final version of the fight appears in Part V of Obi-Wan Kenobi.
The video demonstrates the hard work and dedicated practice that goes into bringing a fight like the one between Darth Vader and Reva to life. The moves require a lot of energy and some surprisingly precise movements from Hayden Christensen in that cumbersome Darth Vader suit. Check out the video below:
All that training definitely paid off. The duel between Darth Vader and Reva, which eventually sees Vader separating Reva's double-ended lightsaber and using one of the blades against her himself, is one of Obi-Wan Kenobi's most jaw-dropping moments.
Here is the synopsis for Obi-Wan Kenobi:
During the reign of the Galactic Empire, former Jedi Master Obi-Wan Kenobi embarks on a crucial mission. Kenobi must confront allies turned enemies and face the wrath of the Empire.
Directed by Deborah Chow from Joby Harold's scripts, the series stars Ewan McGregor, Hayden Christensen, Moses Ingram, Joel Edgerton, Bonnie Piesse, Kumail Nanjiani, Indira Varma, Rupert Friend, O'Shea Jackson Jr., Sung Kang, Simone Kessell, and Benny Safdie. The series will also see the return of legendary Star Wars composer John Williams, who scored a theme.
Obi-Wan Kenobi is streaming on Disney Plus. Stay tuned for all the latest news sorrduning the future of the Star Wars franchise and be sure to subscribe to Heroic Hollywood's YouTube channel for more original video content.
Source: YouTube
The Stranger in Our Bed First Look Trailer
A while back we brought you a review of the brilliant novel by Samantha Lee Howe titled The Stranger in Our Bed, back then we mentioned that it was being adapted into a feature film and today we are very pleased to share with you the trailer, some stills from the release and the poster of the film.
Prepare for Britain's answer to Gone Girl. Feeling trapped in her controlling marriage to wealthy husband Tom (Ben Lloyd-Hughes, Industry, Sanditon), Charlotte Carlisle (Emily Berrington, Humans) begins an affair with another man, who one day mysteriously disappears without a trace. Behind her husband's back, she secretly begins an investigation into the disappearance, teaming up with her lover's sister Becki (Terri Dwyer, Hollyoaks) to uncover the truth behind what happened.
It quickly becomes clear that nothing is at it seems, and after becoming witnesses to a murder, the two become entangled in a dark and twisted game of cat-and-mouse. With her life on the line, Charlotte must uncover what's really going on – before it's too late. Also starring Andi Osho (Shazam!, Good Omens S2), Bart Edwards (The Witcher) and Nina Wadia (Bend It Like Beckham). Directed by Giles Alderson (Knights of Camelot, World of Darkness) and produced by Terri Dwyer, based on the best-selling book by Samantha Lee Howe. 
Here at Blazing Minds, we can't wait to see the film when it is released and will be bringing you our review as soon as we can, so keep those eyes peeled.
Signature Entertainment presents The Stranger in our Bed on Digital Platforms on 5th September
Karen Woodham is the founder and owner of the Blazing Minds. She is also a Cinema reviewer and works with RealD 3D reviewing the latest 3D releases and IMAX, she has also had several articles published in various publications including the first edition of SFW Magazine. In 2015 she became an Award Winning Blogger and also has her website listed as one of the UK's Top 10 Film Blogs.