Here's how Homelander and Soldier Boy shot that epic "Herogasm" fight scene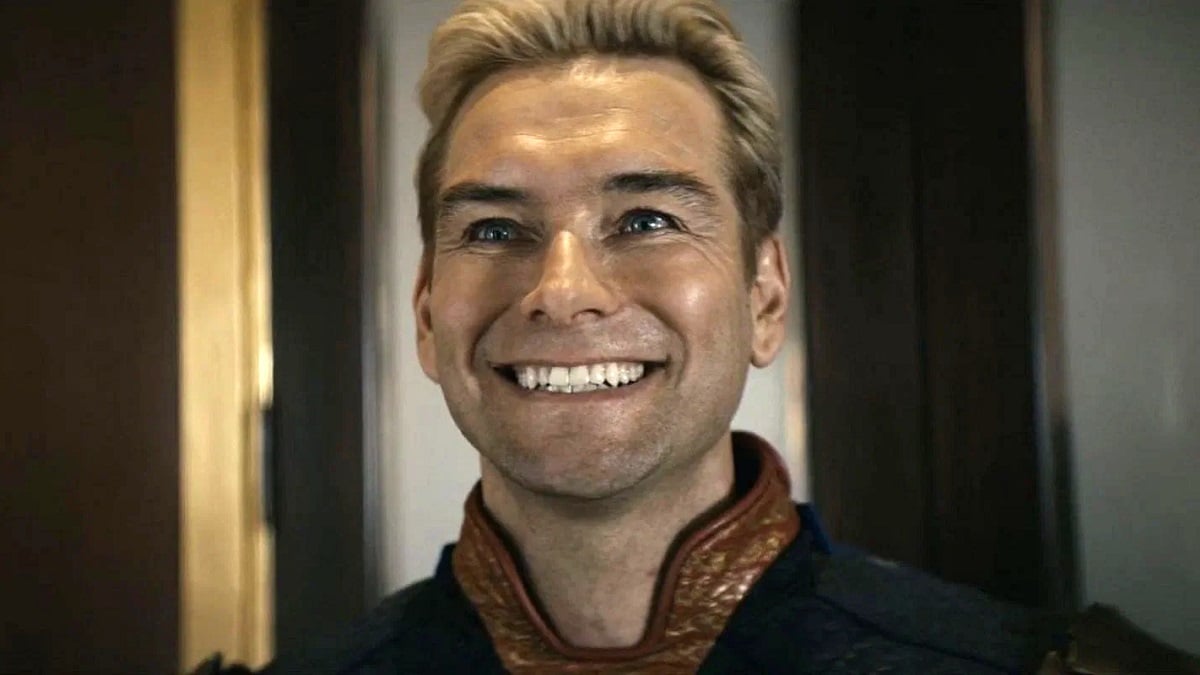 Barring that epic "girls do get it done" scene in season two, it feels like we've rarely seen supe vs. supe fights in Amazon's The Boys, but not if "Herogasm" has anything to say about the matter.
The show's most successful, and perhaps content risky, episode to date not only offered a glimpse into what superhero orgies look like, it finally gave fans what they'd been waiting to see since those first few episodes set up the fictional world and its power dynamics back in 2019.
By this, of course, we're not referring to the art of seismic procreation as demonstrated by all the C-listers coming together for a bit of how's your father. The episode's surprise highlight actually involved Soldier Boy and Homelander finally knocking fists and swinging each other around the only way two supes of their physical prowess know how to. Things got even juicier when Billy Butcher joined in with his temporarily enhanced stamina and endurance.
Okay, we should probably stop it with the euphemisms and let you watch this new behind-the-scenes clip for yourself, wherein Homelander pushes Soldier Boy up against the chimney with the help of a dozen strings. (Okay, we'll stop for real now.)
It never ceases to amaze us how post-production work turns an incomplete and messy shot such as the one you see above into a seamless superhero fight that suspends your disbelief without so much as a small blunder that undermines all of this as ultimately make-believe.
Television has definitely come a long way since the days we had to use our imagination to fill in the gaps. There was a time, in fact, not so long ago, when TV shows had to save up on three seasons' worth of budget to be able to deliver a fight that barely stacked up to the one we witnessed in "Herogasm" this week, brief as it was.
In any event, The Boys season three returns this Friday with its penultimate episode.
Blu-ray Review: THE WORST PERSON IN THE WORLD Runs to Criterion
The quickness with which bold Norwegian filmmaker Joachim Trier's latest, the accomplished if also a little uneven romantic shapeshifter The Worst Person in the World (Verdens verste menneske), was dubbed the third entry in a loose "Oslo trilogy" was nothing if not dizzying.  
Already sporting an equilibrium all its own as a narratively driven kind of open dialogue around male/female romantic relationships, its being lumped in with the director's considerably heavier efforts Reprise (2006) and Oslo, August 31 (2011) only adds unnecessary baggage to a work that actively demands to run free.  
In fairness, all three not only share Trier and the setting of Norway's capital; they also all star actor and full-time medical doctor Anders Danielsen Lie.  But he is not the main character this time.
Finding a fully earned degree of global acclaim following a lauded run on the international festival circuit, The Worst Person in the World resonates as a singular film in twelve demarcated parts, with a prologue and an epilogue.  Depending upon one's life experience, the story of romantic relational foibles, perils, attractions, temptations, and messy reconciliations is never not relatable.   
While the song sung is of an old, overly- familiar subject, its beat-changes run out at us with creative abandon. It wails and riffs from one movement to the next as though all the players- director, co-writers, actors, the cinematography department, the art department, wardrobe, hair and makeup, props, even the extras (many of whom found themselves "frozen" in challenging positions during the prolonged practical filming of a vital "time-stopping" fantasy sequence) are in rare accord.  Jazz by way of Norway.
In his January 2022 Sundance Film Festival review for ScreenAnarchy, Dustin Chang said, "Joachim Trier and his writing partner Eskil Vogt, as they always do, bring maturity and erstwhile wisdom to their new film, The Worst Person in the World. And they tell a story decidedly from a young woman's point of view in an ironically titled film."  While Dustin does a fine job of articulating the deep sensations that the film evokes, the passage of months since Worst Person's debut has helped clarify a few aspects that can be further explored.
While The Worst Person in the World does a top-notch job of showcasing its lead, Julie (a particularly radiant-at-times Renate Reinsve), it cannot be overlooked that director/co-writer Joachim Trier and his co-writer/creative partner Eskil Vogt are male, and therefore imbuing a male perspective from the project's initial spark. In the fifty-minute Criterion-produced bonus feature, The Making of The Worst Person in the World, Reinsve, Trier, and Vogt discuss how the actress was brought in as a key voice in shaping Julie's perspectives and concerns, going well beyond the typical level of input an actor would be granted.  
Yet, the implication remains that the default voice would always be male.  This is never more overt than with the character of Julie's most serious love, Aksel (Anders Danielsen Lie), a successful underground comic book artist with over a decade of life experience over Julie.  
Though sympathetic throughout, his rants and concerns tend to rain down in a Godardian way, which is to say, he's a fired-up leftist with a born-in misogynistic streak. Late in the film, his recollection of a time when tangibity mattered in terms of media consumption, and things we could collect and hold in our hands are the words of someone of Trier's generation (he was born in 1974; Vogt as well). That The Worst Person in the World presents as effectively from a female perspective while in actuality is thoroughly male with female advisory is perhaps the major success behind its enigmatic appeal.  
The performances, Reinsve's performance in particular, leaves one with the sensation that, yes, this is what vulnerability looks like — unsure, enveloping, vulnerable.  Reinsve's moments of character exuberance are as infectious as her occasional pain-inflicting cuts are potent.  
In his aforementioned review, Dustin astutely points out that "there is a sense of defiance in these characters and especially in Julie, played by Reinsve, who gives a tour-de-force performance, trying to navigate this crazy, complex and uncertain world on her own terms, even if her life decisions were bad."  Julie won't let herself get too close to anyone, an anger that has something to do with her father.  (The hallucinatory lashing-out scene might be as bloody feminine-perspective as it gets).
Meanwhile, Aksel's complicity in allowing his signature comix character's famed attribute, his asterisk-shaped asshole, to be removed from his animated movie likeness is indicative of his own shedding of youthful defiance, something that Julie just can't do.  (Also, as Aksel gets older, perhaps he no longer identifies as an asshole… even as he is more likely to be one?)  
Meanwhile in the handful of deleted scenes on the disc, Julie steals not one but two chocolate bars from a grocery store under her boyfriend's nose.  That time, it's the other boyfriend, the content barista Eivind (Herbert Nordrum), who cannot get behind what she's doing.
Shot on fast 35mm film, The Worst Person in the World harbors a particularly warm, absorbing graininess and tactility.  This is the kind of realization that, for most, only comes once the non-digital method is discussed as they are in the Criterion bonus features.  
A separate featurette on the whats and hows of the film's complex time-freezing sequence covers the added unforeseen challenges of filming just as Covid-19 hit.  Discussing new safety protocols following a long shutdown, we're reassured that "everyone had masks on until the camera started rolling"… as we see set footage of an unmasked dolly grip lugging a section of track between the key cast and crew.  
This guy is far from the only unmasked or mask-down crew member shown. Like Trier's characters, not only was the set itself obviously somewhat defiant and maybe reeling, it was bordering on self-destructive.
In any case, The Worst Person in the World landed as one of the Best Films of 2021, a well-deserved recognition that, we're told, surprised so many involved.  Now that it's enshrined in the Criterion Collection (on Blu-ray and DVD), its esteem will be all the more ingrained.  
The disc's packaging is hard to miss, as it is fronted with a rudimentary, warped rendering of a nude Julie smiling as she holds her own bleeding heart over the faceless likeness of her two beaus.  Is this a paper cutout?  An online doodle?  The most delightfully twisted thing ever?  It's hard to imagine this newly commissioned and unlikely minimalist artwork by Bendik Kaltenborn not racking up purchases on its own accord.  
Criterion serves up a new 2K digital master for the film, with 5.1 surround DTS-HD master audio soundtrack on the Blu-ray.  It's a great mix that truly compliments the many musical and aural tonal shifts heard throughout the twelve-plus chapters.  
The supplements aren't many — just the Making Of, the time-freeze featurette, and the deleted scenes — but it's enough.  They are rendered with terrific quality similarly to the film itself, even going as far as to utilize onscreen chapter cards.  Throughout the course of them, we hear from Trier; co-screenwriter Eskil Vogt; actors Renate Reinsve, Anders Danielsen Lie, and Herbert Nordrum; cinematographer Kasper Tuxen; and sound designer Gisle Tveito.  The essay insert is by critic Sheila O'Malley.
It's a wee bit ironic that The Worst Person in the World, a film about contemporary human inability to intimately connect and commit fully to one another and our deep-seated lack of self-knowledge, thrives precisely because of connection, collaboration, and self-knowledge.  It's tellingly difficult to get at the cut-out heart of this newfangled must-see, yet it resonates like a thousand romantic comedies and psyche-shattering human dramas all ground into one distinct cup of coffee.  
That it reads as an empathetic men's telling of a deeply relatable uncertain woman makes it kind of like that compelling cold brew that you just can't peg, but profoundly enjoy.  You will go back to it again and again if given the chance.
Beast Trailer | Universal's New Thriller Looking To Wrap Up The Summer
We are a little over a week away from the release of Universal Studio's new thriller, Beast. The fight between man and beast has been part of storytelling for what seems like all of history. Sometimes the "beasts" or monsters are animals just that are misunderstood, or whose environment has been disrespected. But one thing is for sure, in these situations, it becomes clear that we are not always at the top of the food chain. That we can just as quickly become the prey of something much more powerful than us. Below is the trailer for Beast.
Beast gives me The Ghost and the Darkness vibes. Probably just the angry lions. It looks like a very thrilling film. We know that Idris Elba is going to be excellent, but it's going to be a matter of if we find the lions to be believable. This is definitely one of those films that should be enjoyed in a sound-centric movie theater room.
Here is the synopsis for Beast
Sometimes the rustle in the bushes actually is a monster.
Idris Elba (Fast & Furious Presents: Hobbs & Shaw, The Suicide Squad) stars in a pulse-pounding new thriller. About a father and his two teenage daughters who find themselves hunted by a massive rogue lion. Intent on proving that the savannah has but one apex predator. 
Elba plays Dr. Nate Daniels. A recently widowed husband who returns to South Africa. Where he first met his wife, on a long-planned trip with their daughters to a game reserve managed by Martin Battles (Sharlto Copley, Russian Doll series, Maleficent), an old family friend and wildlife biologist. But what begins as a journey of healing jolts into a fearsome fight for survival when a lion, a survivor of blood-thirsty poachers who now sees all humans as the enemy, begins stalking them. 
ALSO SEE: SPIRIT HALLOWEEN: THE MOVIE TRAILER | YOUR FAVORITE SPOOKY SEASON STORE IS BACK THIS YEAR WITH A MOVIE
Iyana Halley (The Hate U Give, This is Us series) plays Daniels' 18-year-old daughter, Meredith, and Leah Sava Jeffries (Rel series, Empire series) plays his 13-year-old, Norah. 
From visceral, experiential filmmaker Baltasar Kormákur. The director of Everest and Universal Pictures' 2 Guns and Contraband. Beast is produced by Will Packer, the blockbuster producer of Girls Trip, the Ride Along franchise, and ten movies that have opened No. 1 at the U.S. box office. Including Night School, No Good Deed and Think Like a Man, by James Lopez, president of Will Packer Productions, and by Baltasar Kormákur. The film is written by Ryan Engle (Rampage, Non-Stop). From an original story by Jaime Primak Sullivan and is executive produced by Jaime Primak Sullivan and Bernard Bellew.
Universal Pictures' Beast will be released in theaters on August 19, 2022.
Another Trailer for 'Into the Deep' Survival Action Thriller on a Boat
Another Trailer for 'Into the Deep' Survival Action Thriller on a Boat
by Alex Billington
August 9, 2022
Source: YouTube
"She is not going to let you off this boat." Lionsgate has revealed an official US trailer for Into the Deep, which is launching in the US later this month after first premiering on Sky TV in the UK in July. Produced by the same team as 47 Meters Down, Into The Deep follows Jess as she is swept off her feet thanks to a whirlwind romance with the mysterious Ben… Things seems to be going swimmingly when he takes her on his boat so they can drift miles from shore, but soon enough their extended meet-cute is cut short by the arrival of Lexie. When the party on the boat takes a sudden turn for the worse, it's clear that either Ben or Lexie is a dangerous liar. Starring Ella-Rae Smith, Jessica Alexander, and Matthew Daddario as the main three, plus Nikkita Chadha and Jack Morris. It looks like it gets pretty twisted and intense in the second half, with everyone playing games. So who's lying, who's telling the truth? Only one way to find out…
Here's the official trailer (+ poster) for Kate Cox's Into the Deep, direct from YouTube:
In this intense action-thriller from Lionsgate, Jess (Ella-Rae Smith) is swept off her feet by a mysterious stranger named Ben (Matthew Daddario), who takes her to his boat that's docked nearby. Dangerously adrift miles from shore, their romance is interrupted when Lexie (Jessica Alexander) shows up, and soon the three get wasted and play sexy games. When the party takes a sudden turn for the worse, it's clear that either Ben or Lexie is a dangerous liar. In the explosive climax, Jess must decide which one to help… and which one to destroy. Into the Deep is directed by British writer / filmmaker Kate Cox, making her feature directorial debut after directing a few other short films previously. The screenplay is written by David Beton. The film originally premiered on Sky TV in the UK back in July this year. Lionsgate will debut Into the Deep in select US theaters + on VOD starting August 26th, 2022 this summer. Anyone want to watch this one?
Find more posts: To Watch, Trailer