A cult classic sci-fi action extravaganza slices and dices on streaming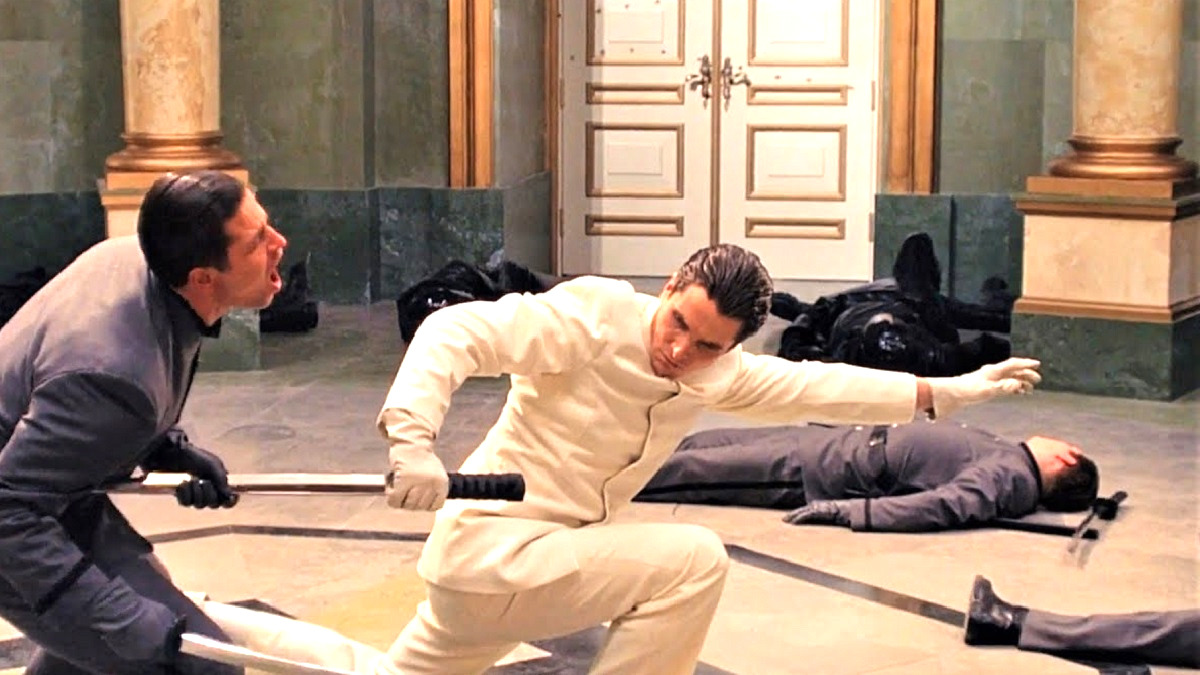 Not every movie gets to enjoy a fruitful box office run, but there are occasionally titles that can be pinpointed as cult classics in waiting from a mile off. and Kurt Wimmer's bonkers dystopian sci-fi actioner Equilibrium was definitely one of them.
It came bearing all the hallmarks of a film that was destined to find a long-lasting second life on home video; reviews were poor, ticket sales were even worse, a great actor played did their best to treat inherently silly material with the utmost respect, and the multitude of fast-paced set pieces threw caution to the wind in the name of sheer unbridled insanity.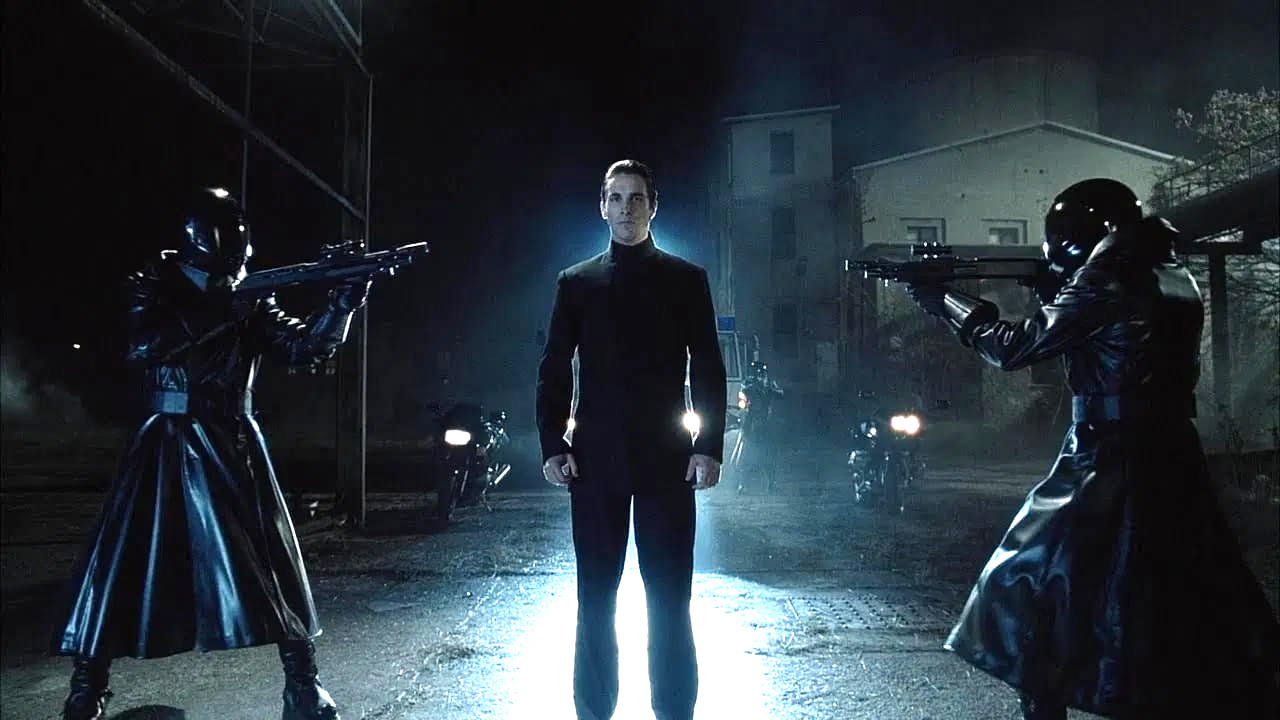 Christian Bale's John Preston is a government Cleric tasked with wiping out citizens who disobey the rules installed by an oppressive regime that's outlawed the arts, emotions, and feelings. However, after missing a dose of the drug that keeps him in check, the agent breaks free from his shackles to take the fight to those in charge.
It's been 20 years since Equilibrium burst onto the scene to prove its credentials as a fan favorite, with an 81 percent user rating on Rotten Tomatoes almost double that of the critical consensus. Just in time for its anniversary, the mind-altering flick has now been enjoying an uptick in popularity on streaming, too.
As per FlixPatrol, Equilibrium has sliced and diced its way onto the Prime Video ranks, with those watching it for the first time in store for a real treat, as long as they've got a soft spot and/or preference for gratuitously violent gun kata beats and frantic swordplay.
Beast Trailer | Universal's New Thriller Looking To Wrap Up The Summer
We are a little over a week away from the release of Universal Studio's new thriller, Beast. The fight between man and beast has been part of storytelling for what seems like all of history. Sometimes the "beasts" or monsters are animals just that are misunderstood, or whose environment has been disrespected. But one thing is for sure, in these situations, it becomes clear that we are not always at the top of the food chain. That we can just as quickly become the prey of something much more powerful than us. Below is the trailer for Beast.
Beast gives me The Ghost and the Darkness vibes. Probably just the angry lions. It looks like a very thrilling film. We know that Idris Elba is going to be excellent, but it's going to be a matter of if we find the lions to be believable. This is definitely one of those films that should be enjoyed in a sound-centric movie theater room.
Here is the synopsis for Beast
Sometimes the rustle in the bushes actually is a monster.
Idris Elba (Fast & Furious Presents: Hobbs & Shaw, The Suicide Squad) stars in a pulse-pounding new thriller. About a father and his two teenage daughters who find themselves hunted by a massive rogue lion. Intent on proving that the savannah has but one apex predator. 
Elba plays Dr. Nate Daniels. A recently widowed husband who returns to South Africa. Where he first met his wife, on a long-planned trip with their daughters to a game reserve managed by Martin Battles (Sharlto Copley, Russian Doll series, Maleficent), an old family friend and wildlife biologist. But what begins as a journey of healing jolts into a fearsome fight for survival when a lion, a survivor of blood-thirsty poachers who now sees all humans as the enemy, begins stalking them. 
ALSO SEE: SPIRIT HALLOWEEN: THE MOVIE TRAILER | YOUR FAVORITE SPOOKY SEASON STORE IS BACK THIS YEAR WITH A MOVIE
Iyana Halley (The Hate U Give, This is Us series) plays Daniels' 18-year-old daughter, Meredith, and Leah Sava Jeffries (Rel series, Empire series) plays his 13-year-old, Norah. 
From visceral, experiential filmmaker Baltasar Kormákur. The director of Everest and Universal Pictures' 2 Guns and Contraband. Beast is produced by Will Packer, the blockbuster producer of Girls Trip, the Ride Along franchise, and ten movies that have opened No. 1 at the U.S. box office. Including Night School, No Good Deed and Think Like a Man, by James Lopez, president of Will Packer Productions, and by Baltasar Kormákur. The film is written by Ryan Engle (Rampage, Non-Stop). From an original story by Jaime Primak Sullivan and is executive produced by Jaime Primak Sullivan and Bernard Bellew.
Universal Pictures' Beast will be released in theaters on August 19, 2022.
Another Trailer for 'Into the Deep' Survival Action Thriller on a Boat
Another Trailer for 'Into the Deep' Survival Action Thriller on a Boat
by Alex Billington
August 9, 2022
Source: YouTube
"She is not going to let you off this boat." Lionsgate has revealed an official US trailer for Into the Deep, which is launching in the US later this month after first premiering on Sky TV in the UK in July. Produced by the same team as 47 Meters Down, Into The Deep follows Jess as she is swept off her feet thanks to a whirlwind romance with the mysterious Ben… Things seems to be going swimmingly when he takes her on his boat so they can drift miles from shore, but soon enough their extended meet-cute is cut short by the arrival of Lexie. When the party on the boat takes a sudden turn for the worse, it's clear that either Ben or Lexie is a dangerous liar. Starring Ella-Rae Smith, Jessica Alexander, and Matthew Daddario as the main three, plus Nikkita Chadha and Jack Morris. It looks like it gets pretty twisted and intense in the second half, with everyone playing games. So who's lying, who's telling the truth? Only one way to find out…
Here's the official trailer (+ poster) for Kate Cox's Into the Deep, direct from YouTube:
In this intense action-thriller from Lionsgate, Jess (Ella-Rae Smith) is swept off her feet by a mysterious stranger named Ben (Matthew Daddario), who takes her to his boat that's docked nearby. Dangerously adrift miles from shore, their romance is interrupted when Lexie (Jessica Alexander) shows up, and soon the three get wasted and play sexy games. When the party takes a sudden turn for the worse, it's clear that either Ben or Lexie is a dangerous liar. In the explosive climax, Jess must decide which one to help… and which one to destroy. Into the Deep is directed by British writer / filmmaker Kate Cox, making her feature directorial debut after directing a few other short films previously. The screenplay is written by David Beton. The film originally premiered on Sky TV in the UK back in July this year. Lionsgate will debut Into the Deep in select US theaters + on VOD starting August 26th, 2022 this summer. Anyone want to watch this one?
Find more posts: To Watch, Trailer
FOLLOW HER (2022) Reviews of social media psychological thriller plus new trailer – MOVIES and MANIA
NEW! Visitor rating! Press a star to rate what you think of this movie!
'You want to be famous, right?'
Follow Her is a 2022 American psychological thriller about an aspiring actress who responds to a mysterious classified ad. Unfortunately, she finds herself trapped in her new boss's twisted revenge fantasy.
Directed by Sylvia Caminer – making her feature film debut – from a screenplay written by Dani Barker who also stars.
The Classified Films-Dolger Films co-production also stars Luke Cook, Eliana Jones, Mark Moses, Lorraine Farris, Bettina Bilger, Brian Vincent, Justin L. Wilson, Sawandi Wilson, Chris Gaunt, Cristala Carter, Sibyl Santiago, Clay Vanderbeek and Anastasia Romashko.
Plot synopsis:
Jess Peters (Dani Barker) is a struggling actress and live-streamer, known to her online followers as J-Peeps. But she has finally found her hook: secretly filming creepy interactions she encounters via online job listings, and using the kinks of others to fuel her streaming success.
For her next episode, she's been hired to write the ending of a screenplay in a remote, lavish cabin. Once there, Tom (Luke Cook), the alluring self-proclaimed screenwriter, hands her a script in which the two of them are the main characters. This client isn't what he seems, and even though the money's great the real payment here could cost her life…
Reviews:
"Ultimately Barker's remarkable portrayal of Jess forces us to confront our obsession with internet celebrities, as well as our own online presence. The fact that Follow Her succeeds at being fun, meta, and thought-provoking, while also being a low budget, female-led project, makes this an exceptional movie." 4/5 Bloody Disgusting
"Barker's performance in the movie is exceptional, as there are a lot of layers to Jess that we get to see pulled back […] Luke Cook is pretty damn great in this as well, and he shares an incredible amount of chemistry with Barker, and it's just really fun to watch these two actors go back and forth once things take a dark turn in this story." 4/5 Daily Dead
" …is it really a game or something much more dangerous? Whatever it is, you'll be immensely entertained on the road to finding out. Dani Barker is great as the person guiding the audience while Luke Cook is brilliant as portraying the very umm "eccentric" Tom Brady." Heaven of Horror
"Though there are quite a few bumps along the way, the film is entertaining and thrilling enough to keep viewers interested and engaged. Add in a dash of meta-humor reminiscent of Josh Ruben's Scare Me, while highlighting the dangers of social media, and you have yourself a layered psychological horror film that'll have you questioning your own social media presence…" Nightmarish Conjurings
"Director Sylvia Caminer does an admirable job of keeping events puzzling and fast-paced, and Barker and Cook have dynamite chemistry together. Pitching that the proceedings are supposed to have a Hitchcockian feel is a very tall order, and though Caminer and Barker don't quite reach those heights (who does?), they do get pretty close to flirting with Brian De Palma territory…" 3.5/5 The Scariest Things
Release:
Follow Her had its world premiere at the Fantasporto Film Festival in Portugal in April 2022. It will have its North American premiere at the Popcorn Frights festival on August 14th and its UK premiere at the Arrow Video FrightFest on August 28th.
Technical details:
1 hour 35 minutes
Working title:
Classified Killer
Teaser trailer:
Trailer:
MOVIES and MANIA is a genuinely independent website and we rely solely on the minor income generated by internet ads to stay online and expand. Please support us by not blocking ads. Thank you. As an Amazon Associate, the owner occasionally earns a very tiny amount from qualifying linked purchases.
 
 
Related